Have you ever tried to draw or paint a chevron pattern and become frustrated with getting the angles and lines just right?  Well, today the struggle to get the peaks of the pattern all in a straight line ends as I show you an easy way to create a chevron pattern that can be used for craft projects, home updates, and especially for parquet floors.
This post contains affiliate links, meaning I earn a small commission if you order anything.  Thank you for supporting this blog.
Chevron patterns will always be a favorite of mine.
It is the classic inverted V-shaped pattern that is popular for crafts, pillows, floor patterns, and even backsplashes.  The chevron pattern is most often trendy for decorations for the holidays.
I love how this pattern is showing up recently in home furnishings, especially in wood furniture pieces. 
In case you were wondering…
Often confused with the herringbone pattern, the chevron pattern creates a zig-zag design that comes to a 45-degree angle at the top of each point.  
The herringbone pattern may repeat the same zig-zag, but the top point of the zig-zag has a 90-degree angle where the two sides meet in a staggered or stacked peak instead of a continuous-looking ribbon at first glance. In herringbone patterns, the two edges are visual as two separate pieces.
The two key differences between the two patterns are how the two sides of the point come together in the continuous zig-zag pattern.
Both patterns are historical patterns dating back to Rome and Greece, with the chevron being more modern while the herringbone creates a traditional look.
Herringbone flooring is most popular in parquet flooring patterns.  Lately, I have seen the chevron pattern used a lot for feature walls. 
It is no wonder then that the chevron pattern was very popular in mid-century design since the popular style is often dominated by geometric patterns. Today, chevron patterns show up everywhere in modern styles, especially in tile patterns and rug designs. 
As someone who lives in a modern mid-century inspired home, this pattern works well in my interiors. I don't have a personal preference for either one.  My choice will depend on the style of the project I am working on.  
Rugs are always a popular choice to add a Chevron pattern to your home decor.
So of course I have tried to use this pattern in my home in several ways over the years.  For instance, this painted wood board that was originally built as wide shelving in my daughter's room was perfect with a painted-on chevron pattern for a backdrop on my large wood mantel or as a decorative piece for outdoor seasonal decor.
Figuring out the best way to create the pattern was a challenge.
After a few trials and errors, I finally found an easy way to create a simple grid to make a perfectly spaced and aligned chevron pattern.
When we moved into our current home, our daughter's room had these custom-built, and very deep shelves, in one corner beside the window seat. The shelves were built floor to ceiling and were just too deep for her to use.  Imagine seven custom shelves that she could have crawled into and slept on they were so wide and deep.  
So we removed them, but I certainly didn't throw them away.  For years they have been in a basement closet while I figured out how to reuse and recycle them.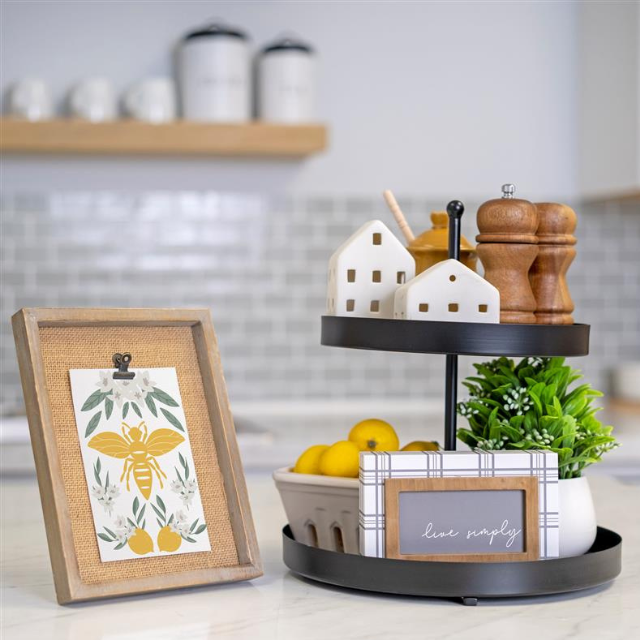 These old shelf boards are great for craft projects and I still have a few more left in the closet for future use.
My husband cut one of the boards down for me to use as a backdrop for my fall display a few years ago.  The shelf board is covered in wood veneer and measured 19″ wide by 27″ long.
The first thing I did was to apply several coats of chalk paint in a cream color. I knew with a veneer surface on the board that chalk paint would work the best.
How to Create a Chevron Pattern for DIY Projects
In the past, I had attempted to paint a chevron pattern free-hand because I assumed it would be so easy just to paint a bunch of zigzags across the surface and it would look great.  When in fact, it looked childish and sloppy.  
I finally realized that the secret to creating a perfectly aligned row of chevron zig-zags was to create a block grid first. 
Once the paint was dry on each side of the old shelf board, I turned my attention to creating the grid on each side with a pencil.  Chalk paint not only allows you to write on the surface but the pencil marks can be erased afterwards.
For my pattern, I decided to draw the grid with 4 equal sections on the short side, and 6 equal sections on the long side of the board.  The number of blocks you create for the grid depends on how many V-shapes you want in your continuous zig-zag pattern and how big to make them.
This is easy to do with a yardstick, ruler, or straight edge.  I used my T-square from my design school days as you will see in the photos. 
First, you measure the surface of the project you want to design a chevron for and calculate a grid pattern based on equal sizes of squares.  Then you start creating the grid with a pencil.
Note:  I apologize for the quality of the photos.  It is very hard sometime to take clear pictures of pencil drawings on a light-colored surface.  Hopefully, you understand the directions anyway.
After creating the block grid in pencil, I started the chevron pattern by drawing a diagonal line from one corner to the next in the first block of the grid.
Then I drew a second line in the next block of the grid in the opposite direction and continued this pattern across the top row of blocks. (You can draw the pattern either vertically or horizontally).
For the next few rows of blocks, copy the same pattern as the first row until you have completed the entire grid.
Since the grid lines and blocks were drawn with a pencil, you can easily erase the lines around the new chevron pattern.  Or use a  Mr. Clean Magic Eraser that works wonders as well.
At this point, you can easily paint and decorate the chevron pattern you just created.
My project is shown here in orange and white that I used as a backdrop for an Autumn display outside my side entrance a few years ago.  The reverse side of the board has the same sized chevron pattern in gray that I have used as a backdrop for a neutral display on my mantel. 
This same technique can be used to create a herringbone pattern as well.  The secret is in creating a grid first that helps to make either popular pattern for a classic design. 
Pin For Later
Hugs,
"In ,Him we live and move and exist"  Acts 17:28