This treasured piece of furniture had become dated and worn. Just giving it a fresh coat of paint and new hardware gave it a classy makeover. 
This post contains affiliate links which help to support this blog if you were to purchase anything through these links, at no additional cost to you.
These days I am very focused on some furniture makeovers for my new sunroom.  Which means I have also been shopping my own house for possible pieces to use and of course realizing some of my things need a makeover.  I will get to those eventually.
In the meantime, I am re-sharing a previous makeover of a treasured piece while I am busy with getting the sunroom finished up.
My daddy built me this dresser when I was a teenager.  It was the first one he had ever attempted to make and he was very proud of the final outcome.
Over the years, and several military moves, the top of the dresser had gotten broken and the trim pieces lost.  For over ten years this dresser sat in my basement just waiting for me to get around to either fixing it or giving it a makeover.
I promised my daddy that I would never get rid of this dresser, but I think he would agree with me, if he was still with us, that it needed some TLC and a makeover.

Neither one of us had ever really loved the stain color.  Over time it had become more and more reddish orange and very dated looking.  
For some reason I could just envisioned this dresser in a bright and happy shade of blue with some fun old fashioned jeweled knobs. So that is the exact look I decided to give this old treasured heirloom.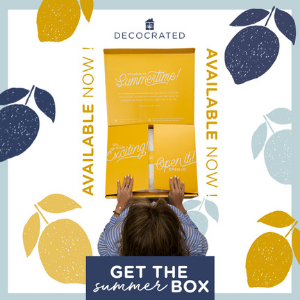 This dresser not only has a very dated color of stain, but the hardware on the drawer fronts really needed to be updated as well.  Thanks to some of the wonderful selections at D. Lawless Hardware, I was able to find some beautiful amber glass knobs that will really give it some class!
Disclaimer:  This post has been updated for 2021.  It was originally part of a sponsored furniture makeover group.  At the time I received the hardware as part of the sponsored post. 
First though, we needed to address the problem with the broken top.  For this part, my husband came to the rescue and not only removed the damaged trim pieces, but also reattached and repaired the original top.
Next, I needed to change the color of the stain.  
I have been collecting pins on Pinterest for some time for furniture makeovers and have really been crushing on some beautiful makeovers in blue.  
I decided that this dresser really needed a blue makeover, not only because I plan to keep this dresser for a long long time, but it just needed a total personality change to fit it's new space.
I applied two coats of Deco Art Americana Decor Chalk Paint in Legacy, and then two coats of Minwax Polyacrylic in Semi-Gloss.
I usually would have used wax over the chalk paint, but I wanted this dresser to have more of a durable and shiny finish.
At the time I did this makeover I completely neglected to get photos of the painting process.  But you get the idea of how that went.
The final step was to add the beautiful amber glass knobs from D. Lawless Hardware.
This once neglected, and damaged dresser, has been given a new classy personality.
Hugs, 
"A person's insight gives him patience, and his virtue is to overlook an offense."  Proverbs 19:11