It has been one hot summer!
So hot that if you are like me you haven't used your outdoor patio as much as you would have liked this summer. 
Between the almost daily thunder storms and those pesky mosquitos and gnats, I have been avoiding the porch in the evenings.  Our saving grace is that Fall weather will soon be here and we can finally enjoy our outdoor spaces on cooler nights for meals or just to sit and relax with a glass of sweet tea.
Looking forward to those cooler nights has gotten me to thinking about ways to bring some easy, and budget friendly Fall table ideas for the porch to add some rustic and natural charm – and to have a place to sit down your glass of iced tea or those first cups of hot chocolate.
This post contains affiliate links that support this blog and provides a way for me to continue to bring you wonderful ideas for your home.
There are so many reasons why you may want to try out a few of these budget friendly ideas for an outdoor table for the Fall season.  For starters, they add instant rustic Fall charm without spending any money or very little of it.  A plus is that since you aren't buying an actual "table", you can easily transition these items to another purpose or for another season.
First up – Buckets!
A new or old galvanized bucket is perfect for Fall décor.  Turn it upside down and it can quickly become a small table. Add a simple wood circle cutout for a Fall table with storage, especially if you can't easily flip over the bucket to make a table because it has handles or a curved edge.
For my version, I just added a colorful bandana to camouflage how obvious it was that it was a bucket turned upside down. 
Speaking of turning something upside down to use as a table.  Large flower pots can work the same way as a bucket.  Throw a Fall colored bandana over it or a wood circle cutout and no one will notice at first that it is a planter and not a table.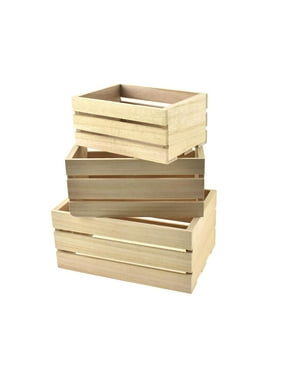 The versatility and outdoorsy charm of a simple wood crate can transform your outdoor patio from a summer vibe to a Fall cozy feeling.  Even if left unfinished, a wood crate adds warmth and character, not to mention it gives you a two tiered table to add a Fall pumpkin or a bowl of pinecones inside.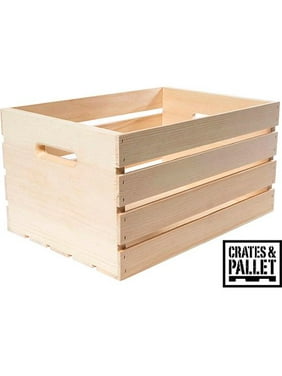 Large wood wine boxes also work as well as a wood crate.  I once used a few of them in my screen porch room before we remodeled it to our renovated Mid Century Inspired Sunroom last year.  They worked out great and were very sturdy.
Garden stool aren't just for stools.
Even though they can be expensive at some retailers, a garden stool is an creative little item to use as both a stool, and as a small side table in small areas.  The end of a summer season though is a great time to find reduced prices on decorative garden stools.  Either way, they are a good investment because of their versatility. 
Have you ever considered using a pallet as a table?
If you need a rustic, and inexpensive outdoor coffee table idea, a stack of free pallets is also a fun idea. Stack two or three on top of each other, secure them together with cable zip ties, and you have a quick and easy table.
With some creative inspiration, you can add legs to the bottom for even more charm.  Below is a picture of one I snapped recently at an outdoor food truck park in our area.  Their intent was to use it for a kid table, but anyone can pull up a few chairs and enjoy this outdoor table.
Table or a chair? Which one would it be?  If you have trees around your home that have been cut down, like me, then move a few large tree stumps to the patio for either a table or another form of seating.  If they are a bit too natural and rustic for your home, a quick white wash finish on them gives them more of a Farmhouse style.
While writing this post I did a quick search for log tables and even found a few you can buy online.  That was something new to learn. 
But I would suggest for a more budget friendly option would be to find someone you know who has recently cut down some trees if you don't have access to them in your own yard like I do.  
My point of this post is that even though the summer months are almost over, you can still find some inexpensive table options for your late summer and early Fall patio without breaking your budget.  A little creativity and out of the box thinking gives you some rustic options that also gives you some Fall charm to your space at the same time. 
These ideas are also just fun for your next family outdoor gathering as well. 
Hugs,
Isaiah 60:20B "The Lord will be your everlasting light."