The variety of Fall pumpkin decorations are so pretty and you can find one to meet anyone's style and home fashion.  After seeing metal pumpkin at my son's house, I was inspired to create my own version of a chicken wire ribbon pumpkin.
This post contains affiliate links which help to support this blog if you were to purchase anything through these links at no additional cost to you. 
It is time for another blog hop hosted by Sara from Birdz of a Feather.  If you are visiting from Apple Street Cottage, then welcome!  I love Ann's 'Sweater Look Pumpkin' project this month.  At the very bottom of this post, I will be directing you back to the next stop on this blog hop venture. But don't forget to check out all of the talented bloggers participating this month during the week as well.
This is my first time participating in the Creative Craft Hop and I'm excited to join so many other bloggers and share in the fun.
My project this month is a chicken wire ribbon pumpkin project.
I am currently on a quest to use up my craft supply stash as much as possible.  Both for my blog posts and to put new items in my vendor booth.  Another goal is to be able to actually walk through my craft room again.
It is currently a mess and I have supplies I have forgotten about because they are buried beneath other things.
Such as these spools of chicken wire ribbon in gold and silver.
I bought them last year or so on impulse because I really liked them.  After making a few upcycled Farmhouse inspired mason jar vases with them, I put the spools on the shelf and couldn't think or commit to another project for them.

Recently I went on a trip to visit my son and daughter in law and she had a metal pumpkin on display that caught my eye.  It was made of metal strips secured together to make an open frame shaped pumpkin.
I immediately thought of these spools of chicken wire ribbon and realized I could recreate a similar look with the wire ribbon.  Sorry, but I didn't take a picture of that pumpkin at the time. Wish I had!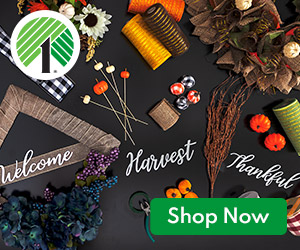 However, my version is so easy to make!
For this project you will need:
Chicken Wire Ribbon that is about 2 inches wide

Decorative faux leaves from Dollar Tree

Wood cut pieces from Dollar Tree – or sticks from the yard

Hot glue

Jute twine
First, cut 3 equal strips of the chicken wire ribbon using the wire cutters.
I didn't measure my cuts to an exact length at the time.  Just whatever made a good size loop.  The second and third cuts were just measured and cut based on the size of my first cut piece.  
Roll the first cut length of chicken wire ribbon in a loop with the two cut ends meeting up.  Twist together the cut ends of the chicken wire ribbon to secure them in place.
Place the second cut of ribbon in a different direction around the first loop and secure the ends together again by twisting them in to the sections of the first ribbon loop.
Take the last cut piece of wire ribbon and lay it opposite both of the first two ribbons as seen below.
3 loops of chicken wire ribbon twisted together make for a unique pumpkin for Fall decorations.
Loop it around the first two loops and secure them all together by twisting the wire edges intertwined with the first two sets of wire ribbon. 
These steps created the pumpkin shape with all three cut sections of chicken wire ribbon woven together at the top.  Since it is made of flexible wire, you can shape the pumpkin as needed and to flatten the bottom so it will sit upright.
Using a hot glue gun, or whatever glue you prefer to use, add on the decorative leaves and cut wood pieces for the top decorations.
The top of the chicken wire pumpkin will not be level because of the twist and ties of the wire edges.  So the little wood cut piece did not lay flush with the leaves.  To hide that gap, I glued on some jute twine around the base of the wood cut and tied another section of jute twine on as a ribbon. 
It gives it a bit of rustic detail and hides the gap between the wood and the chicken wire.
I had both silver and gold chicken wire ribbon for this project so I made several of these pumpkins to use up the supplies.
On a few of them I added a faux sunflower for a little something extra.
Now I would like to send you to Cecila of My Thrift Store Addiction and her Repurposed Copper Birdcage Lanterns.  When you are finished enjoying her post, be sure to come back and visit the other talented blogger posts below:
Repurposed Copper Birdcage Lanterns
DIY Sparkling Beads and Pearls Pumpkin
How to Stencil a Grateful Thanksgiving Sign
Dollar Tree Halloween Candelabra Tutorial
Hugs,
Isaiah 64:8 "Yet you, Lord, are our Father. We are the clay, you are the potter; we are all the work of your hand."