Earlier this year, I hosted a bridal shower for my daughter that included a delicious popcorn bar that included rustic harvest baskets.  Taking one of these harvest baskets, I upcycled it to make an adorable festive Santa basket for this month's 'Do It Over' challenge.
This post contains affiliate links which help to support this blog if you were to purchase anything through these links, at no additional cost to you.
The popcorn bar for my daughter's bridal shower featured lots of salty popcorn, cheese toppings, and delicious sweet candy options to combine all together.  Each item was displayed in rustic apple harvest baskets I picked up at a local shop in Pigeon Forge.
You can find similar baskets at Amazon:
Since then I have repurposed and upcycled these baskets for several blog projects around my home.  Including the project where I blended paint and water to give a couple of the baskets a rustic makeover.
My idea for a festive Santa basket has been on my mind for some time, so this month's 'Do It Over' challenge was the perfect opportunity to finally get this project done for the upcoming Christmas season.
Be sure to visit the other talented bloggers who are participating this month in the links at the end of this post. 
To start my festive Santa basket project, I first spray painted the entire basket in a bright red paint.  Thankfully in East TN we still have some warm days so that I could still use spray paint outside in my screen porch.  I used Rustoleum Apple Red in Gloss.
Side note here:  I thought I had taken pictures of this step but realized afterwards that I didn't include images of actually spray painting the basket when working on another project at the same time.  Sorry, but you get the idea of how to spray paint a basket.
Here is how it looked when it was finished and the details are below on how I created the look.
The wood strips of the basket are very porous so it took 2 coats of paint to cover the entire basket – both inside and out.  
I allowed the paint to dry overnight before starting the next steps.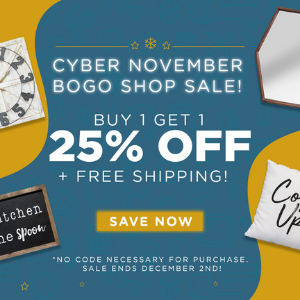 To create the design of Santa's suit, I painted the top ring of the basket in white acrylic paint, and one vertical strip of the basket for the button area.  This took 3 coats of paint to cover over the red base.
I had originally wanted to find a short belt to wrap around the middle of the basket for Santa's belt.  But lack of time to browse multiple thrift stores and traveling to visit my mom in North Carolina for the holiday, I just didn't have the time I wanted to hunt one down.  Instead, I used acrylic paints in black and metallic gold to create the look of the belt using the middle wood strip around the basket.
Santa's suit should have large black buttons and gold thread and I created this part of the design by tracing around a quarter and painting the circles black.  The same metallic gold paint was used to paint in the gold thread.
To give the basket one last little bit of sparkle, I covered all of the white painted areas with Sparkle Mod Podge. 
I have seen similar baskets like this listed at Kirkland's and Amazon, but my version only cost me the original $3.49 I spent for the basket back in February. 
This was a fun project for the holidays and I can now use it every year in different ways.  
Continue the inspiration and fun by visiting all of the other bloggers in this month's 'Do It Over' challenge.  
Hugs,