Reusing a galvanized bucket from my daughter's wedding and modern metal legs removed from an old sofa, I created a DIY Footed Bucket Planter.
This post contains affiliate links which help to support this blog if you purchase anything through these links, at no additional cost to you.
With Spring finally here, I was inspired to finally complete a project that I have considered for some time.  The project and timing are perfect to post about it for the March 'Do It Over' Designers challenge. Every other month, a group of bloggers join together to share inspiring upcycle, recycle, and DIY projects together. 
My project this time around is this one of a kind footed galvanized bucket planter made from items I already had in my home.
I bought a mid century inspired modern sofa about 16 years ago. 
It was from the La-Z-Boy Todd Oldham Dexter Collection and I loved the clean lines of the sofa and the modern shiny tapered metal legs.  I had saved up for a year for new furniture and loved that sofa and the matching styled chair.
So did my dogs as you can see in the photo below which is a very old photo of two rooms that have since been updated.
Only one of these sweet dogs is still with me.
Note:  Todd Oldham furniture is no longer available at Laz-Y-Boy but you can find similar furniture by him at toddoldhamstudio.com. Just for those who want to know. 
Fast forward many years and the brown cotton fabric had become stained and dirty from the dogs and many many teenagers using this sofa.  The matching chair had also been slowly destroyed by two puppies chewing apart the arms as well.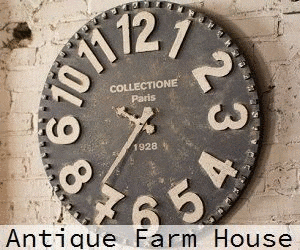 No matter how much I tried to clean the fabric, the stains and the dog smell just clung to the sofa.  So we saved up and bought new furniture for our living room and got rid of my favorite modern sofa.
As my husband and future son-in-law were hauling it out of the house, I impulsively stopped them and took the legs off the sofa.  I was already blogging by that time and everything was a source of inspiration for a new project.  Those shiny tapered legs have been in a box for about 5 years.
There are so many projects I almost made with these metal legs but never did for one reason or another.
Until now.
Combined with a 7 gallon galvanized bucket we used as an ice bucket for my daughter's wedding last year, I made a one of a kind footed planter for my soon to be finished sunroom. (Hopefully, fingers crossed that the room is completed by summer!)
This project was so easy and simple. Even if you don't have old sofa legs to use, you can recreate a similar look with wood legs or hairpin legs and a galvanized bucket of any size.
To start the project, I removed the original screws from the tapered legs.  My husband looked through his stash of hardware in the garage and found screws, washers and nuts that would fit and better hold the legs in place on the bottom of the bucket.
We also removed the top plate on one of the legs to use as a template for the placement of the legs on the bottom of the bucket and as a guide to where to drill the holes (my husband's idea).
Using a sharpie marker, I traced the outline of the metal plate and the screw hole locations on the bottom of the bucket.
Then I drilled four holes in the bottom and used a metal file to remove the sharp bent edges of the galvanized metal of the bucket.
I made sure to wear gloves and safety goggles for this part!
Before we continued the project, I discussed with my husband the possibly of making this bucket and sofa leg project a footstool instead.
But we both agreed that a planter was best idea because galvanize metal isn't that strong and the legs were heavy. 
Before inserting the screws and attaching the legs, we applied a layer of silicone to each drill hole to seal the opening and secure the screws in place.  This should also help to keep the planter from leaking and rusting out the screws and legs. 
With the four legs attached, the galvanized bucket looked very different. 
Of course it needed a little bit more personality.
I considered adding some chalk paint to the outside of the bucket but a friend suggested burlap and I thought it would be a good look.  
Going back to my craft stash, I pulled out a roll of burlap ribbon with lace edges and attached it around the outside of the bucket with hot glue.
After attaching the lacy trimmed burlap ribbon, I decided to add jute twine to the mix, wrapping the jute twine around the outside of the bucket several times and securing it with hot glue. 
Eventually I think a large fern will call this planter home but since those are hard to find this early in the Spring season, I just filled the bucket with a few pots of vines for these pictures.
Be sure to check out all of the other talented bloggers who participated in the 'Do It Over Designer" Challenge this month below:
Hugs,
Jeremiah 17:7 "But blessed is the one who trusts in the Lord, whose confidence is in him."