Living in a mid century inspired home, I sometimes have to be creative to make my own version of classic atomic décor, including this DIY mid century modern door mat.
This post contains affiliate links which help to support this blog when you purchase anything through these links, at no additional cost to you.
This post is part of the 'Do It Over' Designer link party.  A group of designers who take something old and/or unused and 'do it over' into something new. These items can be found in closets, barns, garages, yard sales, thrift stores, you name it!
This is not technically a makeover of something I purchased from a thrift store or a garage sale, but it is  coco coir door mat that I purchased months ago from Target with one idea in mind on how to decorate it and have changed my mind too many times since then to actually do the project.
How many other DIY bloggers can say the same thing? Raise your hand!

In June, I finished my long planned Mid Century Modern Sunroom.  It was fun to shop and create fun little mid century modern atomic accents for this room during the One Room Challenge®.
However, there were a couple of projects I didn't get to finish and this mid century modern door mat was one of them.
Finding mid century pieces can sometimes be a challenge, or even affordable. So I had to make a few things on my own.
DIY Mid Century Modern Door Mat
During the sunroom makeover I purchased and downloaded some fun mid century modern atomic svg cut files off of Etsy from AxymonDesigns. 
Some of them are classic symbols we all can recognize such as boomerangs and lopsided circles and squares.
My favorite is one for a modern home. 
When I saw it I knew I had finally found the image to use for the mid century inspired door mat I wanted to make because it looks similar to my home. 

Since I only own a Cricut Joy™, I am unable to cut the modern home image at a bigger size.  So I printed it out as large as I could on cardstock on my printer and then cut out the small details like the doors and windows with an X-Acto Knife.
The words and the atomic symbols I cut out on cardstock paper using my Cricut Joy™.
Cutting them out on cardstock allows me to use them like a stencil for the design on the coir mat.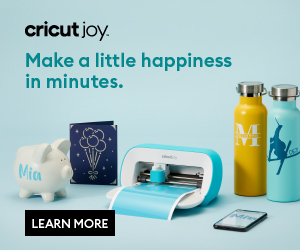 After cutting out the images, I placed them on the coir door mat in different layouts until I found the one I liked.
Use a Sharpie marker to trace the outline of the cut images on the coir mat. I used black because that is what I had on hand but it would have been nice to have markers to match my paint selections.
Tracing the shape of the cutouts is a little tricky on such a rough surface of the coir mat, so I suggest that you pin the pieces down with straight pins first.  
Once you have traced the design on the coir mat, then you can just paint in the design with acrylic paints in your choice of colors. I used bright colors that are popular for mid century designs in green, blue, orange and yellow.
Applying the paint to the coir mat took some time. 
You actually have to paint it in a stamping motion like with a stencil brush to get the paint down in the fibers of the coco coir mat.  And it takes several coats of paint. 
This type of project takes some patience and time to finish it up but is actually very easy to do.
And fun too. 
After I painted in the modern house in black and the symbols and words in bright colors, I realized that the house image was a bit too small and out of place in the middle of the mat.  
But this was the largest I could print it out at home to use as a stencil so I decided to be a bit more creative and add more to the image in the middle of the mat.
Going back to Google images, (late at night I might add) I looked up images for mid century iconic trees for inspiration.
It was fairly easy to freehand paint in cute and colorful tree shapes along the house image. 
At my husband's suggestion the next morning, I painted in the house door and the garage door in light blue so that it looked even more like our own home.
After a few more coats of paint, the project was done.  And I really like how it turned out.
Too bad it is meant to be walked on.
 Be sure to visit and enjoy all of the awesome projects, by some very talented bloggers, who participated in the 'Do It Over' Designer Challenge this month.
Enjoy your week!
Luke 6:35 "Love your enemies! Do good to them. Lend to them without expecting to be repaid. Then your reward from heaven will be very great, and you will truly be acting as children of the Most High, for he is kind to those who are unthankful and wicked."