If like me you have visited your local stores looking for pumpkins and fall decor items, and finding that a lot of them have already been sold out, then the next best thing is to search online.  Today I am sharing some of my recent fabulous finds in Fall decor that may or may not be in my cart ready to have them shipped to me.
This post contains affiliate links which help to support his blog if you were to purchase anything through these links, at no additional cost to you.
For one of a kind home decor items I often turn to Etsy for inspiration and some great finds.  Plus I like the idea of supporting a small business.
All of these fabulous finds are less than $20!
I love that the truck phase in decor is still around for the holidays this year. I might need one for every holiday in different colors such as the one below.
Fall books and pumpkin truck from seller The Wooden Owl on Etsy.

I never decorate for Halloween, not because I don't celebrate it, but just prefer to decorate for a longer Fall themed season.  But I do have to say that this adorable print called Halloween Ghost Dogs I saw on Etsy is in my shopping cart already.
As a dog person with four dogs at home, this is just too cute not to have in my house.

Another item I have been considering for my Fall mantel is garland.  I just love the new wooden beads that have become so popular this year.
These Farmhouse Beads by Trending Home Designs on Etsy come in some fabulous colors.
The soft muted colors in this pumpkin pillow by PCBHome are just stunning.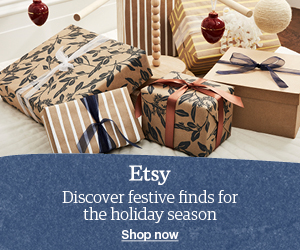 Fall themed signs are a must!  Here is an adorable Hello Fall Sign trio to start your collection by Grain and Lace.
And of course – the pumpkins!
However you decide to decorate for the Fall season, you are sure to find some awesome handmade ideas on Etsy.
Hugs,
"It is good to give thanks to the Lord, to sing praises to the Most High." Psalm 91:1