Welcome to another installment of the Craft Room De-Stash Challenge!  This month I decided to use up some mason jar lids from my stash to make mason jar lid pumpkins to decorate wooden trays.
This post contains affiliate links which help to support this blog.
Mason Jar Lid Painted Pumpkins for the Craft Room De-Stash Challenge!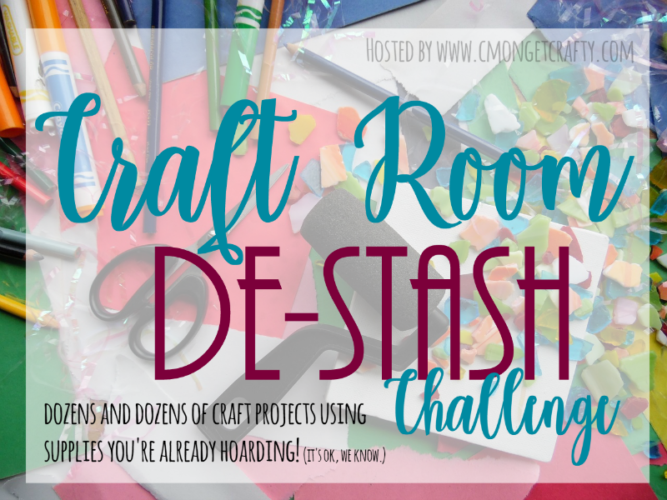 Every month a group of bloggers are challenged by C'Mon Get Crafty! to create a new craft or project from their own stash of goodies! Everyone is allowed a $10 allowance for necessities to complete their project, but the bulk of it must be created from their own stash of goodies. Check out some awesome creations you might be able to make from your own stash! #CraftRoomDestashChallenge
Meet Your Hosts
Craftify My Love | Shoppe No. 5 | Purple Hues and Me
C'mon Get Crafty | Domestic Deadline | Across the Blvd | This Autoimmune Life
Modern on Monticello | My Family Thyme | Stone Cottage Adventures
Mason jar lid pumpkins are so simple to make and take less than an hour to complete.  For starters you will need three mason jar tops for each pumpkin, orange paint, small sticks or something to resemble a stem, and green color raffia.
Mason Jar Lid Pumpkins
For this project you will need:
Orange paint
Craft brushes
Hot glue gun and glue sticks
Small twigs or sticks from your yard
The monthly Craft Room De-Stash Challenge is a great way to use leftover craft supply or to simply finish an old project.
Last month for the Craft Room De-Stash challenge I made mini ornament wreaths out of mason jar lid rims.   Since I used those I had the extra tops just sitting in the box.  I have wanted to try this project for some and I figured this month was a good time to try the mason jar lid pumpkins since fall weather is just around the corner.
In my paint stash, I also had some chalk paint in the color Pumpkin.  Definitely the perfect color to use for this project.
It took about three coats of the chalk paint to fully cover each lid.
To make the pumpkins, I stacked two of the tops together and overlapped the edges in the middle, adding hot glue to hold them together.  Then I glued the third top over the first two overlapped tops.  Now you have a pumpkin.
Lucky for me I live on a very wooded lot so finding twigs in the yard are as simple as just stepping off my deck.  If you don't have access to small twigs, you can make a stem out of pipe cleaners, Popsicle sticks, or whatever you have available.
The last step is to add some flare with a green raffia ribbon tied around the stem.
Use your imagination and have fun with the project.
I have seen where crafters have used these mason jar lid pumpkins as magnets or garland but I just happen to have two wooden trays that these pumpkins looked adorable on.  It was simple to attach the pumpkins to the front of the tray with hot glue.
I can think of so many other ways to use a mason jar lid pumpkin for your projects.  Glue them to the side of a basket, attach them to a fall themed wood sign for extra dimension and interest, use them to decorate a fall wreath, or add a looped piece of twine to them to make an ornament with a message written on them.
I'm sure you can think of even more.
Be sure to visit all of the other talented bloggers participating in this month's challenge.