What is one thing that makes you think of mid century style Christmas decorations? Shiny retro style red tinsel garland is the inspiration for this mid century Christmas wreath.
This post contains affiliate links which help to support this blog if you were to purchase anything through these links, at no additional cost to you.
I understand that not everyone likes or can appreciate mid century modern style.  But for Christmas decorations, it is a retro style a lot of us grew up with or may have helped to throw out in the nineties for new stuff.
I really wish I had kept the silver tinsel tree we had growing up and those original Shiny Brite™ ornaments when my parents were getting rid of them.
We used to laugh at the gaudiness of those old decorations!
Who knew that one day I would be living in a mid century influenced home and would be trying to recreate that look again in 2020?  Certainly not me.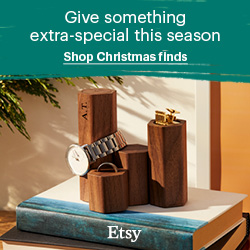 A couple of years ago I decorated my white Christmas tree in retro style and then again a few years later in vintage red trucks.  This year I am combining the two looks and will be decorating my large mantel in a retro mid-century theme to go with it.
There will be a few other surprises in the room I will reveal later this month.
I am still in the process of decorating the mantel so it is not complete yet to show you the whole thing.  However, I did create this very simple mid century Christmas wreath to hang over the mantel to be part of the display that I am going to share with you today.
For this project the only thing you will need is a wreath from, shiny retro style tinsel in your choice of color (pink anyone) and ribbon in a shiny yet contrasting color.
The wreath form I picked up from the Dollar Tree.  This is something I usually try to keep on hand for when the inspiration to make a wreath hits me and I don't want to make a run to the store.
The bright shiny red tinsel garland is some that I already had in my Christmas decorations that I haven't used in a couple of years so this project was a great way to repurpose it.   The shiny silver ribbon I purchased at Walmart for another Christmas tree project so it was the clear choice to go with the shiny red tinsel.  The last thing I needed was just hot glue.
Pick your favorite color of shiny tinsel garland for your own version of a mid century wreath.
I decided to use red tinsel garland for two reasons. One, it was what I already had on hand to use.  And second, I wanted the pop of color against the stone of my dark mantel.  
Mid century style is very colorful anyway so you can use any color of tinsel and it will look mid century modern.
Start the mid century Christmas wreath by applying hot glue to the wreath form and attaching the end of the tinsel.  Then wrap the tinsel around the form until it the entire wreath form is covered, applying more hot glue as you continue.
That's it.  That is all you need do to create a simple mid century themed wreath.
I had enough tinsel to wrap around the wreath 3 times.  I wanted it to be full and fluffy looking since the wreath form I was using was only 12 inches in diameter.
Then I just added the silver ribbon as a bow and wreath hanger.  Or whatever color ribbon you like to go with the shiny tinsel of the wreath.
The challenge for me was finding a way to hang the wreath over my mantel in the stone fireplace.  I usually prop up an old window on the mantel when I hang a wreath for something to sink a nail into.  This time the old window just wasn't the look I wanted for my mid century Christmas mantel decorations.
I ended up attaching a small Command strip hook to the underside of the wooden light box over the mantel.  The wreath kind of dangles a bit but I didn't really want to drill a hole in the old mortar around the stones on the fireplace.
You can see a small peek at what the mid century themed Christmas display on my mantel will look like in these pictures but you will have to return later this month to see the rest of the display.
And remember, it is okay to put up your Christmas decorations now to bring some joy to your home now.  It has been a difficult year and Christmas gives a reason to celebrate every day.
Hugs,
"Trust not in human wisdom but in the power of God." 1 Corinthians 2:5