Mid Century Modern Christmas decorations are so colorful, whimsical, and let's just say it – fun!  My fireplace this year is decorated with a fun Mid Century inspired Christmas mantel.
This post contains affiliate links which help to support this blog if you were to purchase anything through these links, at no additional cost to you.
My original plan for my Christmas mantel this year was all white.  I wanted lots of white trees, white lights, and little white houses.
But on a shopping trip to the At Home store in our area, I came across these miniature modern mid-century houses and they just had to come home with me.

They are part of the Mod Mrs. Claus Collection and not only are there miniature houses but also even smaller versions as ornaments.  And all of them light up!  I bought them all.
In design school, we spent some time learning how to make scale models of houses and our interior designs that included replicas of furniture and accessories.  Ever since then, I have admired and loved miniature versions of houses and furnishings, especially modern inspired ones.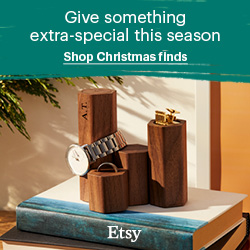 One of the small things I treasure that we acquired when we bought our house is the scale model of the house that the architect created for the original owners.  The husband once told us that in 1979 when the house was built that his wife wouldn't let him build such a unique custom home without seeing what it would look like first.
Somehow the scale model of the house has been kept secure in this house through two owners until we purchased it 13 years ago.  I have kept it on display in the basement ever since.
Until this year.
This year for my mid century themed Christmas mantel, I updated and painted the scale model to look like our home does on the exterior.
This is the Christmas mantel theme I have wanted to create ever since we bought our house.
Finding the Mod Mrs. Claus Collection inspired me to finally make it happen.
Combined with the miniature modern houses are two small white trees, several bottle brush trees I purchased at Dollar Tree, other small trees I found at thrift stores, white fabric, the mid century inspired wreath I made last month, and of course several strands of fairy string lights.
My full size white Christmas tree is also decked out with vintage and retro ornaments from previous themed Christmas tree blog hops such as my retro tree and my retro red truck tree.
At first I hung the smaller ornament houses on the white tree, but decided to move them to this footed tray on display in the middle of my Burke table (which will have a new location in our home after the first of the year).
My Snoopy themed tree and display of Snoopy items mixed perfectly with this mantel theme considering they are both from the same era.
Hopefully next year I can add more miniature mid century houses to the mantel for Christmas.
Hugs,
"Glory to God in the highest heaven, and peace on earth to all whom God favors." Luke 2:14