As I bend over to pick up yet another small pine cone in my yard I ask myself "Why do you need to pick up more pine cones?  You have hundreds of them already in a box!"  Yet I pick up another one and stuff it in my pocket while I think of so many projects I could use it for.
Early in the Fall I am blessed with hundreds of small pine cones in my yard.  Each year I try to figure out a new craft project or home décor project to make with them.  This year I came up with an idea for a Painted Pine Cone Sunflower Wreath.  It has been one of my favorites and most popular posts. 
This post contains affiliate links which means I earn a small commission if you order anything through these links.  Thank you for supporting this blog.
This week I have been pulling some projects together to decorate my side entrance door for the new fall season.   Still not sure yet how it will look in the end, but I've included in this post one of the décor projects I have added to the space.
This whole idea started as I began to collect the small pinecones in my yard this summer after each storm.  
We have pine trees that are over a 100 feet tall, but for some reason they produce some of the most adorable small pinecones.  I just can't ignore them when they are so plentiful in the yard and free for crafting. 
Painted Pine Cone Sunflower Wreath
For this project you will need:
Assorted pine cones in sizes of your choosing

Vinegar

Water

Craft Brushes

Hot Glue Gun

Glue Sticks

10″ White Paper Plate

Newspapers or wax paper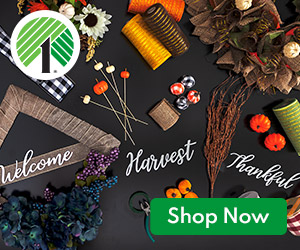 So last weekend I started out with a shoe box full of small pine cones ready to be cleaned and sanitized.
This step included soaking them in warm water and then them outside in the sun to dry.  You also baked them in a 200 degree oven for about two hours on a foil lined cookie sheet.  This helps to kill any bugs, bug eggs, or mold that may be inside the pine cones.  Makes for a woodsy smell in the house, but believe me you don't want to skip this step.
You can also purchase bags of pine cones on Amazon for a much quicker way to make this sunflower wreath. 
Painting so many small pine cones will take a little bit of time!
I then spent a few hours painting the pine cones in several different shades of yellow and brown (for the center of the sunflower).
While doing this I suggest you put on a good movie, pick up a paint brush and just paint. I used acrylic craft paints for this project.  This part can be tedious at best so just enjoy your movie.  By painted the pine cones brown for the center, it makes them stand out more against the yellow painted pine cones.
To be able to create a sunflower look with a filled center with the small pine cones painted in black, I first had to hot glue a 10″ paper plate to the back of my 12″ wire wreath form from Dollar Tree.
Then you just start gluing on the pine cones one by one to the wire frame.  
For my version, I used the larger pine cones around the outer edge and the smaller ones towards the middle and then used the smaller ones to fill in the gaps around them to hide the wire and paper plate.  But for your own, you can decide how you want the faux sunflower to look.
You will end up with about three or four different layers of pine cones in all.  
The paper plate will form the center of the sunflower design.  Use more hot glue to secure the brown painted pine cones directly in the middle of the plate to create the center of the flower.

One thing to keep in mind while you are painting the pinecones, if you think you have enough, paint about 10 to 15 more.  You will find that you need them anyway.
To create the look of greenery and leaves around the wreath, I glued dark green burlap ribbon in loops to the back of the plate.
Since this wreath is a bit heavy, I used wire to make a hanger for it.  I originally tried jute string, but the knot pulled loose and the wreath came crashing down.  
I had to paint a few additional pinecones to repair the damage so I suggest you just start with a strong wire the first time.
Pin For Later!
Hugs,
"Do not judge, so that you won't be judged."  Matthew 7:1