Once again I am behind on sharing my Fall decor in my home.  It is up, but I just haven't had a great day to take the pictures to share.  So, today I am going to re-share some of my previous year's Fall projects that I still use around my home.
This post contains affiliate links which help to support this blog if you were to purchase anything through these links, at no additional cost to you.
Fall decorations like mantel décor, centerpieces, and of course wreaths, are some of my favorite projects to make.  And of course being a blogger I have a lot of projects I have shared in the past.
Earlier this morning I was texting with a friend to make arrangements for a Fall wreath making day with her which got me to thinking about what kind of Fall themed wreath I wanted to make this year. 
I did a search on my own blog of what I have already made in the past and realized that I have made many many different Fall projects over the years. Some I had even forgotten about.
I decided today was a good day to re-share them with you.
This paper bag garland was on my mantel last year. My mantel has had several different looks that I have shared in the past.

Each Fall inspired mantel display always had some small Fall projects that I made and shared. 
Painted Pine Cone Floral Arrangement
And of course, wreaths have always been one of my favorite projects to make!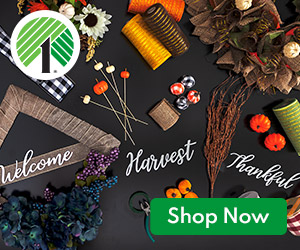 I can't forget some of my outdoor projects on this list either.
Fall Themed Painted Pallet Sign
I hope you enjoyed this walk down memory lane with me.  It has inspired me to create a few more.  
Hugs,
The he said to his disciples, "The harvest is plentiful but the workers are few." Matthew 9:37