Serving trays filled with beautiful seasonal decorations are so popular right now. I have been considering purchasing a few, maybe a few tiered ones, for my holiday decorations. Thankfully I didn't because I remembered that in the bottom of my "storage junk closet" I actually had two square serving trays that I had done a makeover on for my blog many many years ago. I just needed to pull them out and give them a new makeover.
This post contains affiliate links which help to support this blog is you were to purchase anything through this links at no additional cost to you.
In fact, I am not even sure I still have that old post live on my blog after migrating it over to a new platform a few years ago. But as you can see, the trays were painted two different colors and have fabric swatches in matching colors attached to the inside bottom of the serving tray.
I am excited that this is my first post participating in the "Do It Over" Designers blog hop. Below you will get a chance to visit some other talented bloggers who are also participating in this fun get together of great makeovers and thrift store upcycles.
Serving Tray Makeover
The first colors I painted these two serving trays were colors that actually matched areas of my home 7 years ago, but not anymore. Hence the reason they were stuffed in a closet.
These days my home has more blues and navy mixed with my favorite shade of orange. Even though I could probably still use the orange painted tray, especially in my orange dining room, I just didn't like the fabric combination anymore. I decided to give both trays a makeover in deep navy blue.
The trays were from Banana Republic a long time ago and were both stained in a dark brown originally. I honestly can't remember if I painted them in chalk paint or acrylic so even though more chalk paint would easily apply over the current colors, I did do some prep work to each tray before painting them again in Annie Sloan Oxford Navy.
First, I removed the fabric from inside each tray. The fabric had been attached using Mod Podge so it was fairly easy to remove.
Then I used 220 grit sand paper to sand down all of the surfaces of each tray and cleaned them up with soap and water.
When using chalk paint, especially Annie Sloan chalk paint, you usually don't have to sand down or prep the surface to apply the paint, but since these had been updated so long ago, I figured some prep work would make this makeover much easier.
Next I applied two coats of the Oxford Navy to the inside, and top portions of both trays. My can of Oxford Navy was very small and I didn't want to waste an ounce of it on the bottom of the trays, so I painted the bottoms of each tray with a latex paint from a sample size of Behr Dove Grey I had purchased for another project.
The latex paint covered the bottom of each tray with two coats very nicely and looks good with the Oxford Navy.
I wanted smooth finish for the paint on each tray and as you know that is not the finish you usually get with chalk paint. So to achieve a smooth finish, I used water in a misting spray bottle to combine with the chalk paint.
This technique is so easy to do. You simple spray down your paint brush, not a regular round chalk paint brush but just a flat brush, with water beforehand and dip it in to the paint. Before applying the paint the piece, you also mist the surface of the piece with water. This makes the chalk paint glide smoothly on with very little brush strokes. You keep misting the piece as you go as needed to keep a smooth coverage.
With these trays, I also decided to use Annie Sloan Chalk Paint Lacquer in a Matte finish instead of wax. The lacquer is easy to apply with a flat brush and just gives the trays a more modern finish over wax. It also takes less time to harder and cure than wax does.
I first used Annie Sloan Lacquer on my kitchen cabinets earlier this year and love the finish so much more than wax too.
However, this is the first time I have used a dark colored chalk paint and the matte finish lacquer together and what I found was that the application of the lacquer pulled off some of the navy chalk paint and gave the trays a very spotting and distressed look. 
Not really the look I was hoping for. 
A second coat of matte finish went on much better and smoother, however the finish just wasn't what I expected.  The sides of the trays looked okay but the bottom of the inside was not pretty.
I just didn't like the look of the paint job on the inside of the tray.
Sorry, but I didn't realize until I was writing this post that I didn't take pictures of the trays at this point.  But take my word for it, the inside of the trays were a streaky mess.
 What I finally figured out was that even though I had cleaned and sanded down the trays, the old Mod Podge glue had not completely come off the inside of the trays.  Since I had never tried to use chalk paint over old finish and glue before, I figured this could be the problem with how the paint and lacquer looked on the inside of the trays.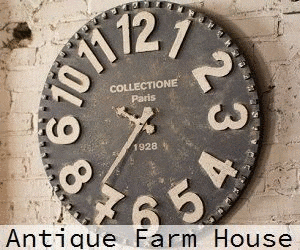 On to plan B.
If I had given myself more time to finish this piece before a blog link up, I would have pulled out my hand sander and completely sanded down each tray back to the raw wood.  But I didn't have that kind of time. And didn't have enough paint.
Instead, I went to my craft room looking for solutions and grabbed a few bottles from the Apple Barrel FarmHouse paint set that I purchased from Walmart.  Since these paints were intended to be used together, I picked out 3 colors that would work with the navy color for a decorative painted finish on the inside of each tray.
The inside of each tray is 14″ wide, so I measured out four sections of 3 1/2″ widths to create a modern striped design inside the trays.
This was easy to do by measuring the 3 1/2″ sections and taping off the lines with painter's tape.  Then I could apply several coats of the acrylic paints in Apple Barrel Marshmallow, Warm Buff, and Grey Fox.  The last section will be in the Annie Sloan Oxford Navy.
The end result was two very modern striped serving trays.
I like how the trays turned out even though they don't look like exactly as I had first planned and envisioned.  Some DIYs just turn out that way.
One tray will be used in my dining room and the other will be used in my upcoming master bath refresh.
In the end, I still ended up with two identical trays that I can either use together or apart in separate rooms.  The colors of the inside stripes also go well with other rooms in my house so basically I can use these anywhere in my home.
One tray looks great in my orange dining room this Fall. 
Be sure to check out the posts from these other talented bloggers: