Recently, I had finally had enough of my scattered and unfinished design plan for our dining room.  So I gave it a much needed refresh –  and for less than $100!
This post contains affiliate links which help to support this blog if you were to order anything through these links, at no additional cost to you.
When we purchased our home 14 years ago, the dining room was stuck in the past, and not necessarily the pretty kind you want to keep either.
It had a half wall of dark paneling, a pink grapevine wallpaper border, heavy ornate drapery that covered most of the window wall, a metal and crystal chandelier that hung so low it nearly touched the top of the table, and wall to wall tan carpet.  Yes, it had carpet.  The previous owners also had a toddler so it was stained from several different colors of Kool-Aid as well.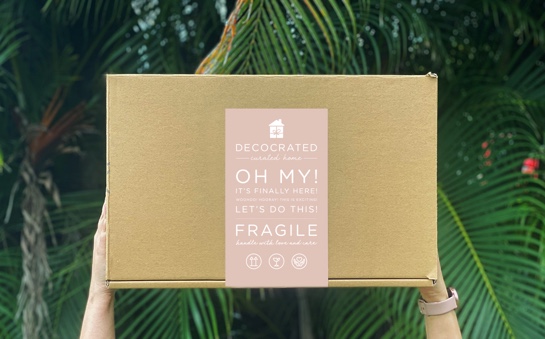 Looking back through my blog, I wrote the first post about our dining room in 2014, but the work had started way before then.  
Here are a few sneak peaks of what it looked like at some point in this journey.
Some of the first things we did was paint the lower wall of dark paneling white, remove the wallpaper border, and painted the top half of the wall in a burnt orange color. 
Eventually we removed the carpet and put in tan tile that we could afford at the time and went well with the same carpet in the connecting living room.
The overly ornate light fixture was replaced with a simple pendant light. It must have been during that time that I also hung the simple sheer drapery panels in place of the heavy drapery.
Well actually, I think the first thing we did was remove the heavy drapery panels and valance to let some light in the room so we could see to start the other projects.
Even though the dining table we moved in with was a bit too small for the room, everything we did at first was a much needed improvement over what we inherited when we moved in.
Our dining room has continuously changed and evolved over the last fourteen years. 
It has housed textbooks and homework, quick family weeknight dinners, and craft projects. It has had a constant identity as a much needed and used space in the home, but not a "designed" space in our home.
It is one of the workhorse rooms in our home. But it wasn't always a pretty room.
About three years ago, while shopping for a new sofa for the adjoining living room, my husband saw this metal covered table on clearance in a furniture store and suddenly we had a much bigger table.
And yes, we still piled everything on and around it.
Then about a year after that, while browsing through a vintage mid century store for a console table for the living room, my husband found a vintage light fixture he liked, as well as a 1950's Dixie Furniture credenza and dresser set in the shop.  A few weeks later, those items joined the items in our home and the dining room had a new look. Or at least the start of a new look.  

But I never actually finished decorating it.
We always knew we wanted it to have a vintage vibe to go with the mid century feel of our house, but I just never got around to pulling it all together.
Dining rooms can be a challenge especially when it is used every day.
This table gets covered up with my many crafty projects, and laptops and books were always piled on the table as well.
Let's face it, the dining room table can easily become a dumping ground at the end of the day.
You get numb to the constant changing clutter so that the room becomes more of a utilitarian type room instead of a pretty place.   
The only time it gets cleaned up is for holidays and family gatherings.
Most days, as long as I had a clean spot to eat a meal at, or could easily slide the clutter over to make a spot, then I was okay.  
Yeah…but not really. Mentally ignoring the unfinished room can only last so long.
I still had the nagging voice that would tell me to finally finish decorating the dining room.
I am an Interior Designer after all and picking out art and accessories for my dining room shouldn't be this hard!
But it was.  I couldn't make up my mind if it was to be vintage mid century icons or vintage diner style.  Or nothing at all like either one of them.
I would hang things up and take them down so many times.
Not long after we got the vintage orange light fixture, I was given a free canvas print. We both chose this rustic scene of a vintage truck sitting in the field. 
We own a vintage 1960 Ford F100 (forever a work in progress) and my husband and I both like vintage truck and camper décor.
It seems our love of mid century era things extends to cars and trucks as well as furniture and décor.
I have no need for a "formal" dining room.
Since we mostly host close family and friends for a meal, setting a comfortable and casual dining table where we laugh and joke around is so more our style.
This room will always get used a lot and not in a formal setting. 
Earlier this year we had all new windows installed in our home.  This picture reflects the difference these windows made in the look of the room. 
Over Labor Day weekend I finally pulled the vintage dining room décor together and spent less than $100 to do it.
The large canvas print of the vintage truck stayed of course, mostly because it wouldn't work anywhere else in our home. It became the starting point for the rest of the décor.
On a recent trip to Hobby Lobby, I purchased a 2022 calendar full of vintage truck paintings.  For only $9.99, it would make great inexpensive art for the rest of the walls in the room.  In fact, finding this calendar was what prompted me to finally do a refresh of the dining room.
I did a reverse canvas project to make these rustic framed calendar pages for the wall. 
Added to the mix of vintage truck art, I purchased a large frame at Hobby Lobby that would hold this poster we purchased on vacation a few years ago in Chattanooga, TN at the Moon Pie store.
All along it had been intended for the dining room décor, but sat in a tube in my closet for at least the last three years.  I spent $25 on the frame during their half price sale.
This is one of my favorite lamps I purchased 14 years ago at a retro themed thrift store. A silver car statue is a previous purchase from the At Home store.  Also shown is this beautifully made custom wood box that was a gift from a family member.
The last thing I purchased for this inexpensive refresh for our dining room, were these rustic metal and wood letters I dug through four bins to find the letters to spell out "vintage". Each letter was priced differently but I spent around $57 to create the word.
On the bookshelf my dad built me when I was a teenager, is a vintage bank similar to the one my grandparents used to have.  I found it in a resale boutique a couple of years ago. The retro yellow clock is a previous Home Goods purchase.  Never used as an actual birdhouse, the retro birdhouse camper is from a previous blog post project.  A much loved and used red antique oil lamp is from my grandparent's home.
The rest of the accessories in the room, I pulled from other areas of our home. 
Like these adorable cross stitch patterns that were monthly projects featured in Country Living Magazine over the last few years. I just love those quick and easy projects every month.
At last, my dining room has a pulled together vintage theme of things we love and enjoy, or are conversation pieces from our travels and collections. To some it may look like a hodge podge of items.
For me, it means another room in the house has embraced the mid century vintage vibe of our home.
And – it is done (for now)! I may or may not have other vintage truck cross stitch patterns to get done.  
Hugs,
1 John 4:18 "There is no fear in love. But perfect love drives out fear, because fear has to do with punishment. The one who fears is not made perfect in love"