National Decorating Month is officially underway and what better time to introduce new home decor than the season of refreshment? Spring is the perfect time to get started on those projects you've been putting off and give your home a much needed spruce-up! After spending so much time indoors last year, it's likely you've perfected your home's interior, so now it's time to focus on how to accomplish exterior home improvements.
This post contains affiliate links which help to support this blog if you were to purchase anything through these links, at no additional cost to you. 
Source: Unsplash
Create a to-do list
Any successful project begins with planning. Trying to tackle everything at once will leave you feeling overwhelmed. Not to mention, you will be less likely to finish what you start. Save yourself the trouble and make a list of projects you want to accomplish based on priority.
As you do, take into consideration which improvements will add the most value to your home. After all, the outside of your home is the first thing potential buyers will see. You don't want all your hard work—or lack thereof—to work against you in the event that you need to sell your house.
Source: Unscale
Gather inspiration
Once you identify which projects you want to take on, it's time to start the fun part—gathering inspiration. Finally, you have an excuse to binge HGTV and spend hours on Pinterest! When it comes to decorating, the options are truly limitless. While you may be tempted to stick with what you know, don't be afraid to experiment or mix and match styles. Make it a point to keep an eye out for design trends that may inspire you to break out of your comfort zone. Remember that your goal is to find your home's unique balance between timeless and trending.
Source: Unscale
Add your personal touch
While inspiration from HGTV, Pinterest and magazines can help you determine which style best suits you and your space, it's important to add your own flair. After all, those sources are there to provide inspiration, not strict style rules. Just like the inside of your home, the outside should reflect your personal taste. You can go for a similar look without copying every single detail. Taking this approach to decorating will promote freedom of expression and creativity. It will also save you from feelings of defeat or discouragement if you don't achieve exactly what you see in the inspiration photo.
Source: Unscale
Think about the big picture
Small home exterior projects, like primping your porch can usually be DIYed. However, if you're taking on larger projects, like new siding or roof replacement, make sure you're planning ahead about the company you want to use, the projected timeline, and associated costs. You will want to find a reliable and local professional to assist in your home's spring spruce-up. In addition, consider how any projects may overlap with each other in timing—think landscaping after roofing. Lastly, it may be wise to explore home improvement loan options to allow you to finance all of your projects in a lump sum.
Source: Unscale
Who doesn't love to spend spring outdoors taking in fresh air and nice views? Doing so is even more enjoyable when your surroundings are beautiful. You can achieve both this spring and summer while saving yourself time, money and stress by following the tips above.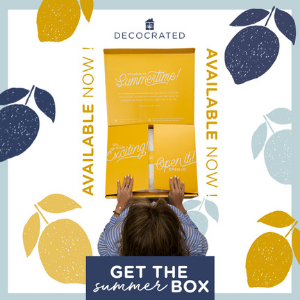 Hugs,
Donna