So excited this morning, we finally have a start date for the interior work for our renovation.  Next Thursday the 29th!  Yes, it is much later than I would have liked, but having a date is progress either way.  For this reason, I have decided to discuss some of the choices we made for the interior finishes – and yes one of them is laminate flooring!
This post contains affiliate links which help to support this blog.
2019 Update:  This post was written during our renovation caused by the tree damage to our home.  I am happy to say that we are still very very pleased with our choice in laminate flooring and have not had any damage so far from the dogs.
Why we chose laminate flooring over hardwood.
Okay, so this may not be a big deal to some of you, but in the world I used to work in in high end hospitality design, laminate was akin to blasphemy.  Only hardwood could be considered and it had to be expensive, double hand scraped, and dark stained to perfection.  Or – reclaimed from an old warehouse, full of worm holes and defects to show it's "true characteristics" – also known as more expensive – and then covered with an equally expensive custom ordered rug covering all but a 6″ border of that expensive wood around the perimeter of the room.  For eight years I thought it was a waste of wonderful and beautiful wood to cover it all up with an expensive rug.
Of course the practical side of me knew that the rug was the only thing standing between continued damaged from high heel shoes and scruff marks from dragging luggage across the room.  So I continued to purchase the rugs needed to cover a new floor installation.
Don't get me wrong, I love beautiful hardwood floors.  I love the lines and texture changes found in the grains of wood, and consider them worth the investment for a home – most of the time.
But not in my own home right now.
And I have several reasons why.
Laminate flooring is very durable.
 Durability and lack of warping.
I once installed a $30,000 hardwood floor, double hand scraped and dark stained, in a charming cottage located on a wooded lot.  Lots of trees and cool moisture.
Five days later, just hours before the first guests arrived, the hardwood boards had "cupped"  and created a rippled, bumping effect across the whole floor.  Even the large rug that I mentioned before, couldn't hide the raised edges of the boards.  It was a disaster!
After frantically getting guest services to move days of guest arrivals to other rooms, the boards of the floor had to be removed, re-cut to smaller sections to allow movement and expansion from the moisture in the air, re-sanded, re-scraped by hand, and reinstalled again at even much more expense.  The moisture content in the cottage was tested for weeks to continue to make adjustments in the flooring so it wouldn't happen again.
Laminate flooring is easy to install and easy to care for.
This was one instance where carpet would have been a much better solution instead of hardwood.  Why did I mention this – because I live on a very wooded lot and I don't want this to happen in my own home.  We already struggle with the moisture levels in the basement and are considering getting a second dehumidifier for the area.
We also have dogs, four of them to be exact.
In one of my previous homes we had hardwood floors, much cheaper than what I described above, so of course it showed every indention made by the dog's nails.  I hated looking at that floor much less trying to clean it.
Laminate flooring is well know for it's durability and it resists moisture, staining and fading. Good quality, above 8mm, laminate flooring is often much harder than real hardwoods. We chose a 10mm board in American Walnut.
Darker floors show more dust and dirt than lighter floors.
I liked darker tones but thought it would look too farmhouse stylish, and my husband wanted light tones for a lighter cleaner feel to our rooms.  We met in the middle with the American Walnut.

2.  Easy to clean and maintain.
Let's be honest, how many of us really ever take the time to maintain a hardwood floor the right way?  After those first couple of scratches, good intentions go by the way side, generally speaking of coarse.  Laminate has a reputation of being much easier to take care of with regular floor cleaners.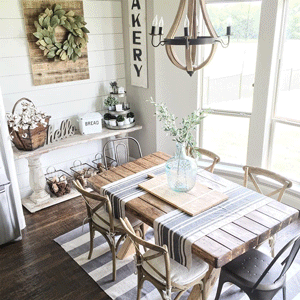 The style of your home should help to determine what type of flooring you purchase.
3.  The look of laminate works in a modern home.
Of course one of the cons to laminate flooring is that the pattern on the boards may repeat themselves every five boards or so, giving your flooring a more uniform pattern across the floor instead of the unique grains found in hardwood.  And honestly, that is okay in a modern home.  Modern homes have been know to embrace modern advances in products and the clean, repeated lines of laminate will be a plus in a modern home.
Laminate flooring has clean lines that look good in a modern home.
4.  Availability of the product in the future.
This will not be our only installation for flooring for our home.  In fact we had most of the upper level of our home measured to be installed next year.  One of the things we checked at the flooring company was that the floor would be available to purchase again in the next few years.  We were assured that it would be.
This may not always be the case with hardwoods.  You may find a great closeout price on hardwood floors, but you if you don't order enough for the whole house or everywhere you plan to have it installed all at the same time, then you take a chance that the same quality, style, and grain, is not available when you need it the next time.
This is also something to consider when needing to make repairs.
Do you plan to install the flooring yourself?
5. Ease of installation.
Laminate is also easier to install than hardwoods.  Since we plan to have this same laminate installed in other rooms on the upper level, the basement is still under discussion for now, then we may be able to save some money by being able to install it ourselves.
So there you have it, the top five reasons why we chose to go with a laminate floor.  I am so ready to have it installed and move back into my own room again.